Born in Aichi prefecture, 1964. Midori Mitamura's wide range of installation, photography and video explores the crossroads between past and present. Her work questions the power and intention of recorded images as a tool to preserve a fleeting moment. By recording or reconstructing an instant in time, Mitamura produces an intersection of past and present. In her works, a private past is made public to viewers who draw new ideas and notions of what was.
Her video works, "Rondo-N Bunny's whisper" and "Purple flower in her dress

" utilize image and music to breathe vitality into a fleeted moment. In "Rondo-N Bunny's whisper", Mitamura weaves together a series of interconnected images to illustrate a personal narrative. In doing so, each individual image is brought to life as it becomes a part of her overall story. In the video, "Purple flower in her dress" the camera's fixed gaze allows viewers to reflect on a simple moment and observe time passing. As one is absorbed into the tranquility of the scene, the intersection of a recorded past and our present state becomes overwhelmingly apparent.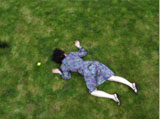 © Midori Mitamura