Jae-woo Oh was born in South Korea in 1983 and currently resides in Seoul. He began working as an artist after graduating from Hong-Ik University. His works mix photography, video, and installation. In the Still Life Poet series, Oh creates photos and videos to accompany his poems, which also serve as the works' titles.
In Still Life Poet Oil, (2008) the artist reads out the names of various books, cigarettes, and drinks shown in still-life close-up. In the photographic works, objects are assembled so that the poem is recreated by speaking the name of objects in the photograph from the top down. In this way, the names of objects usually taken for granted are reinvested with fresh meaning. While this works to reframe the signified as a signifier, the disheveled visual appearance of the objects themselves also works to shift the familiar meaning of the product names (one cigarette, a chocolate kiss, etc.) as they are called out. By presenting the photograph and video works alongside the printed poems, Oh points towards the absolutely different impression made by text and image.
I'm interested in how society use texts and the sense which the society gives the texts in terms of its political and historical situation. Texts used in the past, texts being used now and texts turned into another meanings by social trend are subject matters of my works. I manipulate and position texts at diverse context so that the texts can be interpreted in open sense.
Today, most products have its brand names which appeal consumers to purchase them. These names become a symbols for the public, which dismiss their primary definition. In other words, we live in texts without meanings or with altered meaning. I write poems with names of goods focusing its original meaning. Using names of ordinary things in abnormal method, I evoke definition forgotten or unknown for us. That is, I suggest the new way of seeing world amid products and commercials; one of the biggest features of post capital society.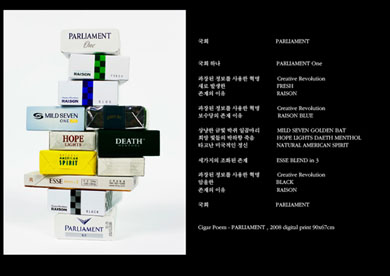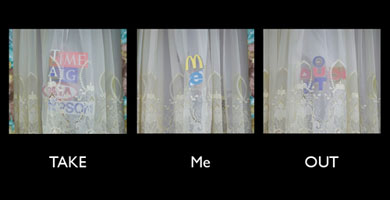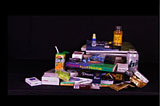 © Jae-woo Oh