Kacey Wong's works bring to mind themes of 'mobility,' 'home,' 'embodiment,' and 'Hong Kong.' The "Drift City" photograph series, ongoing since 2000, features photographs of him dressed up as a skyscraper taken around the world, accompanied by a story of an amnesiac building looking for its true home somewhere on the planet. Alongside its sharp critique of contemporary global urbanism, the project revels in the absurdity of a building taking a poodle out for a walk, or cleaning the courtyard of some stranger's home in a faraway land.

In the "Wandering" series of works, ordinarily immobile homes of various shapes and sizes are set free to roam. For the 2009 Hong Kong and Shenzhen Bi-city Biennale of Urbanism Architecture, Wong created the "Paddling Home," a floating replica of an archetypal tiny (4 square feet) Hong Kong apartment, which he then boarded to paddle around Hong Kong harbor. "Famiglia Grande" is a set of mobile 1-person sleeping spaces for a fictional family of 4, designed to enable them to maintain their high-class appearance despite the lack of a permanent home. According to Wong, the work is an ironic commentary on the disconnection between the cramped real estate situation in Hong Kong and the commercial lifestyles aspired to by those living within it. The work questions if expensive real-estate is really necessary for happiness.

Kacey Wong received a Bachelor in Architecture from Cornell University in the United States, and thereafter began working as an architect. He soon switched to focusing on art production, receiving an M.A. in Sculpture from the Chelsea School of Fine Arts in London in 1998, and a Doctorate of Fine Arts from the Royal Melbourne Institute of Technology in Australia in 2003. His work has been presented in the Venice International Architecture Biennale, the Hong Kong Art Center, the Hong Kong & Shenzhen Bi City Biennale of Urbanism Architecture, along with many other exhibitions. In 2010 Wong was awarded the Best Artist of the Year Award by the Hong Kong Arts Development Council.
Artist Statement (from the Kacey Wong website): "I think being an artist is similar to being a detective; the case on hand is to investigate the self. I always felt that mysterious feeling and the uncertainty at the beginning of every project. To create art is to keep discovering these clues continuously and try to link them together until the case is resolve. It is about self-doubt, it is worrying, it is conquering, it is surprising, it is exciting, and it is about success. My inspiration comes from my sensitivity towards humanity (spiritual world) and architecture (material world). Making art allows my not so perfect self to relive beautifully once more, transforming my thought physically into reality. "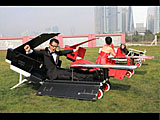 © Kacey Wong