Kishio Suga is one of the Mono-School artists that emerged in 1970's in Japan. He learnt from Yoshihige Saito, another Mono School artist, and was influenced by him when he was studying at the Tama Art Universty. Suga creates his art installations with natural woods, fragments of glass and stones, placing them in the space in such a way as to create a certain strain between the Mono (objects) and the space.
Suga began a series of performance titled 'Activation' in 1973; some moving images are left as documentation.
Kishio Suga was born in 1944. He represented the Japanese pavilion at the Venetia Biennale in 1977, and participated in group shows at the ICA London, the Pompidou center, Sao Paolo Biennale, and Sydney Biennale. In 2005, "Reconsidering Mono-ha" was shown at the National Museum of Art in Osaka.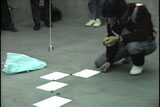 © Kishio Suga, Courtesy by Tomio Koyama Gallery