Maria Taniguchi was a 2009-2010 LUX Associate Artist. Recent exhibitions include 'Lost in your eyes/Foreign Correspondent' , Form Content London in 2009 'No Soul For Sale: Festival of Independents', Tate Modern, London, 'There's fire on the lake', Kunsthalle Marcel Duchamp, Cully, Switzerland 'Homestay', Osage Gallery, Shanghai, China in 2010. Forthcoming exhibitions include 'Complete and Unabridged: A Survey of Philippine Conceptualism', Osage Gallery, Hong Kong and La Salle ICA, Singapore.
Maria Taniguchi
Maria Taniguchi's installations are often based around the arrangement of minimal forms composed of straight and curved lines. In recent works she has begun to include video alongside these objects, producing new forms of narrative. These works are an examination, in her words, of "the relationship between abstraction and information."
In "Mies 421" (2010), a flat-screen monitor shows still monochrome images of the work of architect Ludwig Mies van der Rohe, which alternate to the sound of a slide projector-like click. The speed of the clicking and alternations gradually increases, until all of the images are cycled through rapidly. In front of the monitor are placed several colored transparent plexiglass sheets, in the style of van der Rohe's work. The flatness of the monitor itself becomes foregrounded as an architectural element, at the same time as the plates give new colors to the architectural images depending on the viewing angle.
"Untitled (crystal palace + gauguin)" (2009) is a single-channel work displaying slides of the dinosaurs exhibited at the Crystal Palace in South London, while a man's voice recites a several lengthy descriptions of an unseen Gauguin painting. The recited text was compiled from the descriptions of four different individual's describing the Gauguin painting "Where do we come from what are we doing where are we going?" (1897). At times the voiceover seems to reference the dinosaurs on screen, creating strangely humorous juxtapositions. Here Taniguchi is not only mixing different materials, but overlapping different perceptual contexts to create new dimensions of storytelling.
Maria Taniguchi was born in 1981 in the Phillipines. She received an MFA from Goldsmiths College in London, and currently resides there. She has exhibited work in Hong Kong, London, Berlin, Melbourne, and many other locations worldwide.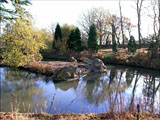 © Maria Taniguchi