Chen Hangfen was born in 1974, and currently resides in Shanghai. While his works greatly stress design and color, he also has many political works critiquing consumer culture by making patterns out of altered company logos, readymades out of garbage, and modern-looking artworks out of ripped traditional Chinese artworks. He has shown his works in both domestic and international venues including Casino Luxembourg, Zendai MoMA in Shangahi and Liu Hai Su Art Museum.

"Santa's Little Helpers" (2008) is a short documentary of a village in China which has for 20 years focused entirely on making the world's Christmas Ornaments. The film starts with a lighthearted atmosphere as we approach the village by train and bus to the accompaniment of Christmas music. While little known, the village produces Christmas ornaments year round. The local river and lake have become polluted by gold and silver dust from the ornaments, and water has become expensive. At the same time, thanks to the factory the villagers have become affluent, and they are happy to be able to employ workers from other farming villages.
Apparently the actual location of the village is something of a secret, but while short the film is indeed a documentary. The story reminds us of Guiyu, a town which has become a disposal site for broken computers.Prosperity and wealth are won at the cost of health and nature.

The inspiration of "Three MInutes" (2008) is from the earthquake in Sichuan Province, after the earthquake, the whole country stopped and observed three minutes silence at 14:28, May 19th 2008, with the sound of siren. Chen put together randomly with all the photos he had took during the past 8 years in China.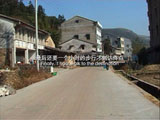 © Chen Hang Feng