Archives



LUX@MIACA  "Look What They Done To My Song"


Lecture from an English Moving Images Archive Director, and an exhibition
"Look What They Done To My Song"
 ++Benjamin Cook (director of LUX) lecture, artist talk of Michael Curran++
Feb. 19th  2008 Tue. 7:00pm ~ 9:00pm
++exhibition "Look What They Have Done To My Song" Michael Curran++
February 19th 2008 Tue ~ 24th Feb. 2008 Sun
12:00noon~7:00pm
ZAIM basement
On 19th Feb. 2008, Benjamin Cook, the director of LUX, Artists' audio visual arts and an artist Michael Curran came to Japan and did lectures and an exhibition.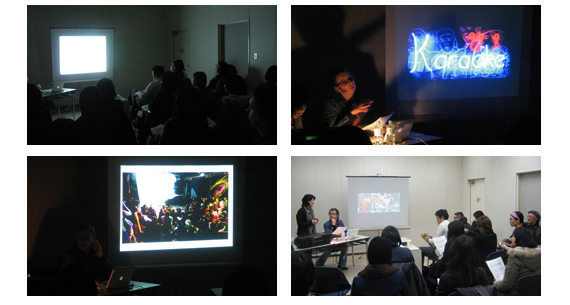 At the lecture and a screening, more than 30 audience visited ZAIM and enjoyed screening and lectures.
First, Mr. Cook showed many important images from 70's when the beginning of LUX. He also talked about the mission and social role of moving image archive in UK. The screening of LUX including Mark Leckey and many other interesting artists. Mr. Curran's lecture is about how he came to create the piece "Look What they Done to My Song", and the interesting link between madness and music with anecdotes from Greek Mythology, which was very interesting.

Many people visited the exhibition, and it was the first show in Japan of Michael Curran. Thanks for Taguchi Co. for the great sound system, Thenks for Ben and Michael, and kind support of Daiwa Foundation, Great Britain Sasakawa Foundation and British Council.

Back