Archives



Yokohama Art & Home Collection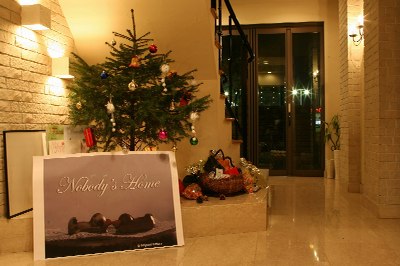 MIACA participated Yokohama Art & Home Collection, new art fair in Yokohama. We organized a project entitled [NOBODY'S HOME] at DAIWA HOUSE.
The number of the audience to our project was more than 1,000 people. We appreciate your visit!
Date: 28th and 29th November 2008
11:00~20:00
Venue: Yokohama Home Collection
(Behind Yokohama Art Museum, near MinatoMirai Station and Sakuragicho JR Station)
Admission: 1000yen (under the age of Junior HIgh school student is free) 
http://www.yaf.or.jp/yahc/
Project Home 2: [Nobody's Home]
Planned by: Moving Image Archive of Contemporary Art (MIACA Japan)
Cooperated by: yuka sasahara gallery, Yumiko Chiba Associates
NOBODY'S HOME
"Every day and age has its rules. We live in a time that urges us to behave as if we are in paradise. Yet the world we live in is no paradise. "
--Dubravka Ugresic
"She wants to go home, but nobody's home.
That's where she lies, broken inside.
With no place to go, no place to go to dry her eyes."
-Avril Lavigne and Ben Moody Nobody's Home
Home, sweet home... most of us dream of owning a warm and cosy (or gorgeous and spacious) house. To help realize and sell, this dream, so called "Housing Parks" have been constructed by developers - clusters of show homes where fictitious happy families live - a perfect husband and wife, beautiful  kids, and a gentle grandfather and grandmother.
 This project [Nobody's Home] examines this kind of euphoric obsession with homes,
 and through moving images explores both the absence and presence of the imaginary perfect family. The homes in these Housing Parks belong to nobody, and none of the family is at home.
Participating artists (might be changed due to the artists):
Yu ARAKI / Chika KATO / Mayumi KIMURA /Mami KOSEMURA / Kazuto SAHARA / Hikaru SUZUKI / Mai YAMASHITA+Naoto KOBAYASHI / The Vehicle + Midori MITAMURA / YOUNG-HAE CHANG HEAVY INDUSTRIES

Back