Archives



MIACA presents for Beppu Project "EARLY HEAVEN" - from Nanjing, Tokyo and Helsinki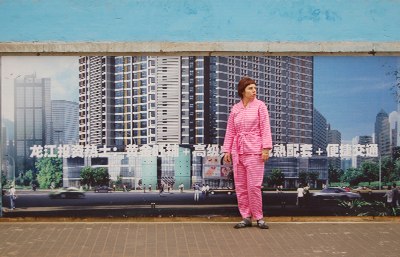 Lieve D'hondt, Almut Rink and Christof Schlegel EARLY HEAVEN
MIACA presents   for Beppu Project
EARLY HEAVEN -from Nanjing, Tokyo and Helsinki
platform01 of BEPPU PROJECT Beppu, Oita Japan
8-3 Motomachi, Beppu, Oita Japan
For more information: 0977-22-3560 info@beppuproject.com
Talk and screening event: 24th Jan., 14:00-
Screening event: 8th Feb. 14:00-
21th January 2009 - 8th February 2009, 13:00-19:00 Mon, Tue closed
artists: An Jungju, Taro Yasuno and Lieve D'hondt+Almut RInk+Christof Schlegel
Hosted by: BEPPU PROJECT

Organized by: MIACA Japan
Supported by: Japan Tourism Agency
EARLY HEAVEN −From Nanjing, Tokyo and Helsinki
This project consists of three moving image art works made in different cities. The works are shown for one week each during the three weeks of the exhibition.
The three works are: a video of the view in Helsinki created by Korean artist An Jungju; a work created with views of Tokyo by Brazilian-Japanese artist Taro Yasuno; and a video of Scenes in Nanjing and Shanghai by European artists Lieve D'hondt, Almut Rink and Christof Schlegel.
 Each artist has cut together scenes from cities that are foreign to them, so the cities are seen from a stranger's points of view. The subjects that they have shot might be ordinary and beneath note for the locals. There are interesting contrasts: Jungju's Smoking and D'hondt and Rink and Schlegel's Early Heaven can be directly compared: Asian artists' impressions of Europe and Western artists' impressions of Asia.
Jungju's work and Yasuno's Musicinema #1 Tokyo are both constructed around sound and vocals; Early Heaven is focused on visual images. The contrast here between East and West and North and South seems not so obvious. Rather, the artistic spheres of each works are vividly eminent.
The venue, platform01, is located in the middle of a traditional shopping arcade in Beppu, Oita Japan. The wide glass window faces the mall, so the audience also can view the "real" layer of the street as a foreground to each work.
EARLY HEAVEN is an important Taoist sign in Feng Shui, and the title of one of the works in this exhibition.
21th Jan − 25th Jan.
Taro Yasuno  Musicinema #1 Tokyo  (2007) 16'43"
This work is made up of views of streets around the Yamanote Line Stations, such as Shinagawa, Hamamatsucho, and Tamachi. A commentary by the artist explain the images. The voice resonates and hums and it is difficult to pick up what he says, which creates an alienating effect. Yasuno contrasts sign and signature with visual images and oral text/code.
This is the first piece of Yasuno's experimental project, the "Musicinema" series. Now there are five works in this series.
Taro Yasuno graduated from IAMAS in Gifu, Japan, and now lives and works in Yokohama, Japan. His work will be shown in the Media Art Festival in Japan in 2009.
28th Jan − 1st Feb.
An Jungju   Smoking (2007)  2'40"
An Jungju's Smoking(2007) 2'40" is one of his "Lip Sync. Series" in which the artist has added sound effects to moving images taken on the streets. On the balcony of an office building in Helsinki, a guy starts smoking. Jungju effectively adds recorded onomatopoeia, turning the balcony into a stage-like space. Thus ordinary scene is completely changed, becoming humorous and a little absurd, and a layer of meaning is added to the actions of the unwitting actors.
Jungju was born in Korea, and took an MA in Yonsei University in 2006. He has participated in many group shows, including exhibitions at the National Museum in Korea, Nui Blanche in France, and Arco07 in Spain. He is now lives and works in Berlin at the Kunstlerhaus Bethanien.
4th Feb. − 8th Feb.
Lieve D'hondt and Almut Rink and Christof Schlegel  EARLY HEAVEN (2007)   6'00"
D'hondt, Rink and Schlegel created this piece during their stay in Nanjing. There are many huge billboards at construction sites in China. On the billboards are old fashioned realistic paintings of completed buildings. These images are symbols of an idealised western style life. In the film, the artists, who are westerners, stand purposelessly in front of the billboard, wearing pyjamas. In the foreground, local people come and go. The three layers in the work show ambivalence between East and West, civilized and uncivilized, public and private.
Almut Rink was born in Germany, and studied in the Art Academy in Vienna. She has participated in many group shows including Kunsthalle Vienna, Kunstverein Munich and others. Christof Schlegel is an architect, who exhibited several projects about urbanism and city image politics. He collaborates with Rink from time to time. Lieve D'hondt was born in Germany and now lives and works in Belgium. She works with different media, including drawing and sculpture, and has been exhibited worldwide.
This piece was shown at the Basel Art Fair in 2008.

Back